Body Changes to Expect after Pregnancy (And the Solutions!)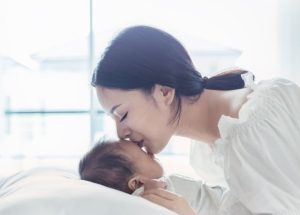 Pregnancy is such a wonderful thing that can happen to a woman. As you venture into that new mommy life, there are lots of adapting to be done to survive the roller coaster ride of emotions, sleepless nights and the reality that after 9 months of carrying a baby, your body would not look and feel the same (just like how your whole life would not be the same with that new little creature!)
That being said, getting back in shape and staying healthy while you adjust to a new phase of life does get challenging, but it is definitely possible!
Body after Birth
Your body did an amazing job in giving life to another human being! However, during your pregnancy, it transforms significantly due to the strain of carrying a growing baby, which results to physical change that new mothers have to be prepared to cope.
Though your body will start regaining strength in time, many still experience noticeable effects that are challenging to improve post-partum. With the help of advanced technology, many FDA-approved treatments are now easily available to help new moms improve the following common issues.
1) Urinary Incontinence
One common problem faced by women after pregnancy is urinary incontinence, which if not treated will be an ongoing daily life struggle. This is caused by the weakening of pelvic floor muscles due to the pressure your body had to endure during the childbirth.
With the life-changing technology of EMSELLA, urinary incontinence can be easily improved. Emsella uses high-intensity focused electromagnetic technology that effectively stimulates pelvic floor muscles with thousands of supramaximal contractions per session. This non-invasive treatment is done with you fully-clothed, and improvements are noticed after just one session!
2) Cellulite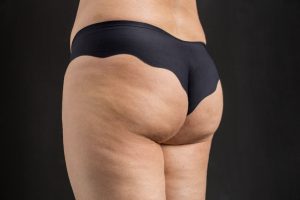 While you are pregnant, your body needs more fats than usual. It is possible that the presence of those extra fat pockets would push through the collagen fibre and connective tissues under the skin, resulting in the appearance of bumps and lumps. Hormonal changes during pregnancy could affect the appearance of cellulite too.
UNISON, a treatment that combines Radio Frequency with Acoustic Wave technology is proven to treat causes of cellulite with zero downtime. And depending on your suitability, another available treatment is VELASHAPE 3 which is beneficial to stimulate collagen production, improving skin elasticity and overall skin texture.
 3) Saggy and Loose Skin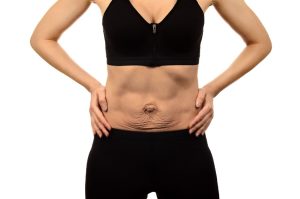 Gaining weight while pregnant is normal, and the additional weight is mostly related to baby growth – the amniotic fluid, placenta and more. However, as your body carries all these extra weight, your skin will expand and it may be hard for stretched skin to return to how it was before, causing the appearance of saggy and loose skin.
There are a number of non-invasive skin-tightening treatments available today to help improve this problem. EXILIS helps with fat reduction plus tissue tightening, and while UNISON works well to treat cellulites, it also helps to tone the body and improve the skin tightness.
4) Facial Skin Problems
The hormonal changes that your body goes through during pregnancy could cause unexpected issues, including making your facial skin more prone to blemishes. Someone who barely had any skin problems before could suddenly have acne and pigmentation issues during pregnancy.
There are different treatments to address various skin problems – our DUAL-LASER treatment helps to reduce pigmentation, acne scars and improve skin texture, EXILIS to tighten skin and reduce fine lines, JUVEDERM fillers to restore hydration and volume of the skin, plus many more that can help solve post-partum skin issues.
5) Post-pregnancy Belly Pooch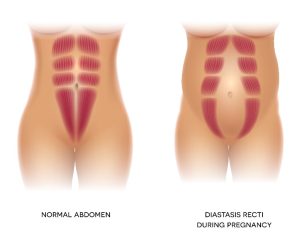 Even a fit body of a gym addict could be defeated by the post-pregnancy tummy. After giving birth, it is common for new mommies to get that bloated looking belly. This is called Diastasis Recti, a condition where your abdominal muscles get separated as a result of carrying a baby inside.
EMSCULPT helps to build muscles and burn fats, which is incredible to strengthen loose muscles and build up your core strength. The emitted high-intensity focused electromagnetic energy triggers supramaximal muscle contractions, akin to 20,000 sit-ups in 30 minutes for one session, the results that no human can ever achieve in such a short time! With strengthened abdominal muscles and increased muscle mass, Emsculpt is clinically proven to treat diastasis recti and improvements of 11% can be seen after just 4 sessions!
—
Every individual and body is different, and we strongly recommend you to consult a certified aesthetic physician to evaluate your body and skin in order to identify the best post-partum treatment solution.
For consultations with Dr Ong Jin Khang of The Retreat Clinic, please call +6011-3302 8232 to make your appointment.