Cellulite: Common but not forever
Got cellulite? Well it's actually even weirder if you don't as it affects nearly 90% of women at some point in their lives. But what is cellulite? It is essentially fats that push against connective tissue under the skin's surface causing lumps and bumps to appear. They are more commonly spotted on the thighs, buttocks and abdomen area.
No, cellulite does not only happen to out-of-shape people
As common as it is, many are still misinformed about cellulite. Some think it doesn't happen to those with slimmer bodies or the fact that skin-firming cream can help cure them. Those are all myths as people of all ages, body shape and sizes develop cellulite and no topical creams have shown to permanently reduce the appearance of it. 
The Retreat Clinic can help you reduce it
Cellulite cannot be totally eliminated but at the Retreat Clinic, we can help stimulate the body's natural ability to reduce it, resulting in smoother skin and a more youthful appearance. 
As a part of our #BodybyRetreat programme, Unison is a non-invasive treatment that uses a combination of powerful radio frequency with acoustic wave technology to safely and effectively treat all 5 main causes of cellulite, which are:
Enlarged fat chambers

Damaged collagen fibers

Loss of skin elasticity

Poor blood flow

Metabolic waste accumulation
The simultaneous action of both energies in this FDA-approved treatment improves microcirculation and lymphatic drainage, plus help build collagen for tighter skin, delivering reduction of unsightly dimples and smoother skin texture and tone.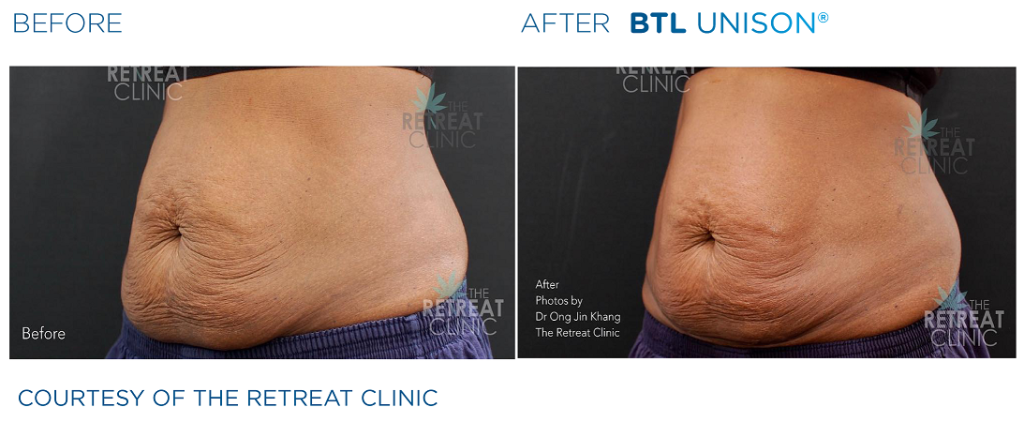 All #BodybyRetreat treatment plan is highly customised to individual needs. Every individual's body is different, and we strongly recommend you to consult a certified aesthetic physician to evaluate your body in order to identify the best treatment solution. For consultations with Dr. Ong Jin Khang of The Retreat Clinic, please call +6011-3302 8232 to make your appointment. FREE mini consultation available!