Coolsculpting is Done Better at The Retreat Clinic – Here's Why & How
What is Coolsculpting and how does it work?
You may have heard a lot about Coolsculpting, but what is the rave all about exactly? Coolsculpting is an FDA-approved, non-invasive and non-surgical fat-freezing technology that helps to remove extra fat cells from beneath the skin. With this technology, it helps to safely deliver precisely controlled cooling to gently and effectively eliminate stubborn fat cells without any downtime. 
Coolsculpting uses a procedure known as cryolipolysis. It works by placing the roll of fat into two panels that cool the fat to a freezing temperature. Research has found that cryolipolysis helps reduce fat layers by 20%-25% at the treated area.
See how it works:
At The Retreat Clinic, we do it better!
We are one of the very few clinics in Malaysia that offers a complete solution that addresses all your body sculpting concerns. The journey to a fitter body is more than just losing weight – you should also be looking into how efficiently you are losing fats, how to tone up those muscles, and definitely how to tighten back the skin after losing fats under your skin!
At The Retreat Clinic, we help patients kick-start their journey to a fitter body by combining Coolsculpting with our best-rated FDA-approved treatments under the #BodybyRetreat programme. Each treatment is completely personalised for better and faster results.
#BodybyRetreat with Coolsculpting
#BodybyRetreat with Coolsculpting can help you with:
Freezing off body fats permanently with Coolsculpting

Burning more fats with VanquishMe

Toning up muscles & burning even more fats with Emsculpt

Improving skin elasticity & cellulite with Exilis & Unison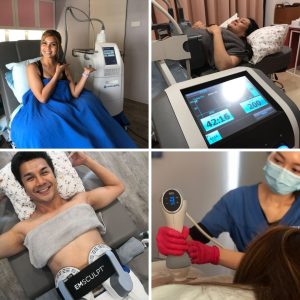 With our team of medically certified doctor and professionally trained nurses, you can rest assured that you are in good hands. We offer free consultation for initial assessment so that you can make an informed decision about your body contouring programme.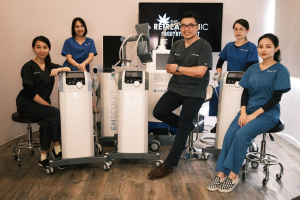 BFF Package Buy 6 + Free 2 + Free 2 More!
Sign up for our #BodybyRetreat with Coolsculpting programme together with your BFF from July-September 2021 to enjoy 2 FREE CYCLES when you purchase 6 cycles of treatment. Heck, we are even throwing in ANOTHER 2 FREE CYCLES for fun! And because the best things are shared, all cycles can be shared among the 2 of you, however you like to!
Valid only from July – September 2021, white stocks last! T&C apply. P/S: 0% interest installment plans are available too!
Contact us now for more details!
All #BodybyRetreat treatment plan is highly customised to individual needs. Every individual's body is different, and we strongly recommend you to consult a certified aesthetic physician to evaluate your body in order to identify the best treatment solution. For consultations with Dr. Ong Jin Khang of The Retreat Clinic, please call +6011-3302 8232 to make your appointment. FREE mini consultation available!